Memorial Wall
Click on photos to read the stories, or select a page below.
Those who cannot remember the past are condemned to repeat it.
~George Santayana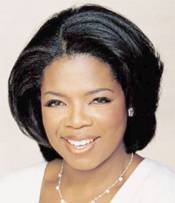 Birthday of Oprah Winfrey
born on January 29th, 1954
Oprah Winfrey Actress,chat show host and philanthropist. Winfrey was born into extreme poverty and has said she was raped at 9, and abused and molested by her cousin,uncle and family friend. At 13 she ran away from home,became pregnant and gave birth to a son who died shortly afterwards. Throughout her childhood she faced neglect and racism. She blames her weight problems on her emotional turmoil and cites her grandmother Hattie Mae as the one who offered her encouragement to speak in public and the one "who gave me a positive sense of myself..." She has appeared in many films and has also wriiten many articles. She has done much for the poor children of South Africa and has opened Oprah Winfrey Leadership Academy for Girls near Johannesburg. She is reputed to be the most influencial woman in America and rates as one of the most wealthy Afro American too.
---
Prince v. Massachusetts Ruling
January 31st, 1944
Sarah Prince, a Jehovah's Witness, was a guardian of 9yo Betty M. Simmons, whom she brought downtown to preach on the streets. Preaching involved distributing literature and collecting contributions. Child labor law in Massachusetts at the time forbade boys under 12 and girls under 18 to sell anything on streets, because it's dangerous and unsanitary. Mrs Prince, however, argued that the state is interfering with her parenting and with her and Betty's right to exercise their religion. The historical US Supreme Court Decision was that parental authority is not absolute and can be permissibly restricted if doing so is in the interests of a child's welfare:
...neither the rights of religion nor the rights of parenthood are beyond limitation... The right to practice religion freely does not include the right to expose the community or the child to communicable disease or the latter to ill-health or death (...) Parents may be free to become martyrs themselves. But it does not follow they are free, in identical circumstances, to make martyrs of their children before they have reached the age of full and legal discretion when they can make that choice for themselves.
---
Rebecca Eldemire
died on February 1st, 2015
21yo Rebecca from Ohio, USA, was a junior student at Miami University, geography major. She was killed by her boyfriend the day after they broke up. He took it hard, so hard that she called the police for protection when she discovered he's coming to her house the next day. But when he arrived and was frisked by the police (because she knew he had guns and was concerned about it) - they spoke some and she let him in and told the police officers all was fine. When the police left, he went back to his car, got his gun, shot Rebecca, and then himself. miamistudents.net published a great page titled
"The Becca We Remember,"
with tons of people who knew Rebecca sharing what she was like. "We don't want her to be remembered just as the girl who died," said Alicia. "We want her to be known as the girl who lived; a girl who had a strong spirit and loved everything on the Earth."
---
Amy Dye
died on February 5th, 2011
Amy was a 9yo girl from Kentucky who stayed with a foster family and was beaten to death. At first her 17yo adoptive brother was charged with murder and plead guilty, but his conviction was overturned by the Supreme Court because investigating police officers coerced him to confess. It's unclear who killed Amy, but here were CPS reports alleging she was abused starting from 2007. On one occasion she was beat up by her oldest brother, but foster mom threatened to spank Amy if she told anyone. Ryan Craig, owner of local newspaper who was covering the case and filed the open records request for the abuse reports, said "Amy Dye should not have been in that home. You can place blame anywhere you want to, but the bottom line is that when we got those records, it showed that she should not have been in that home.".
---
International Day of Zero Tolerance to FGM
February 6th, 2003
Female Genital Mutilation is the ritual removal of some or all of the external female genitalia. Typically carried out by a traditional circumciser using a blade or razor (with or without anaesthesia), FGM is concentrated in 27 African countries, Yemen and Iraqi Kurdistan, and found elsewhere in Asia, the Middle East, and among diaspora communities around the world. The age at which it is conducted varies from days after birth to puberty; in half the countries for which national figures are available, most girls are cut before the age of five. FGM has been outlawed or restricted in most of the countries in which it occurs, but the laws are poorly enforced. Over 130 million women and girls have experienced it.
---
Birthday of Axl Rose
born on February 6th, 1962
Axl Rose. Songwriter and musician. Lead vocalist and only remaining original member of Guns N' Roses. Axl Rose has been voted one of the best rock singers of all time. Born into a Pentecostal family which he later described as oppressive Rose would exhibit during his late teens what a psychiatrist would conclude as evidence of pyschosis. At 26 he was diagnosed with Bipolar disorder. In 1992,after undergoing past life regression therapy he uncovered memories of being sexually abused by his biological father aged 2yo. He also stated that he was physically abused by his stepfather.. A staunch believer in homeopathy and past life regression therapy he would later claim that the early CSA stopped his emotional growth at two. He was quoted as saying "..when they talk about Axl Rose being a screaming two year old they are right..."
---
Lydia Schatz
died on February 6th, 2010
In 2007 Lydia and her sister Zariah were adopted from Liberia by a Californian family that claimed to follow the teachings about child discipline of the "No Greater Joy Ministries", a Fundamentalist Christian organization. On February 5th, 2010, 7yo Lydia and 11yo Zaria were severely beaten (aka "disciplined") for nine hours with a plumbing line, because Zariah was "being a liar and a bad influence on the 7-year-old," and Lydia had mispronounced a word during a homeschooling lesson. Zariah survived, though suffered kidney failure and other injuries. Lydia died in the hospital the next day.
---
Charles Dickens
born on February 7th, 1812
Oliver Twist
, Dickens' second novel, is the first in the English language to centre upon an abused child (or any child for that matter). The book calls attention to various contemporary social evils, including child labour and the recruitment of children as criminals. Written more than two hundred years ago, it still provides consolation to those who were abused as children, as, while social structures and laws change, we all can relate to the general feeling of helplessness and despair of being treated unfairly, being unloved, and not knowing what have we done to cause this or how to fix it.
---
Birthday of Alice Walker
born on February 9th, 1944
Alice Walker. Author,poet,activist. Born into a poor family and the youngest of eight children,Alice's mother pushed for her education working 11 hrs a day for $17 a week to help pay for Alice to attend college. In 1952 Alice was wounded in her right eye by a shot from a BB gun fired by one of her brothers. She would later state that he did this on purpose. She became blind in that eye due to not receiving early treatment but would go on to say that her traumatic injury allowed her to begin "..to see people and things,really to notice relationships and to learn to be patient enough to care about how they turned out.." After graduation Walker became interested in US Civil Rights Movement and became involved in voter registration,campaigns for welfare rights and various children's programs. She has written many books including Meridian ( 1976),a semiautobiographical narrative based upon her experiences in the 1960s. In it she deals with the social,racial and sexual upheavals that the Civil Rights and Black Power era produced. Her website (alicewalkersgarden.com) describes her as someone who believes "..that learning to extend the range of our compassion is activity and work available to all.." Walker also speaks of how a pregnancy and abortion during her senior year of college led her to becoming severely depressed and suicidal. This emotional trauma pushed her to write her first book of poems "Once" Walker was the first black woman to win the Pulitizer Prize
---
My sister
died on February 11th, 2007
Sorry was not there for you, but could not do it anymore missed you for so many years and to have heard of your suicide hurts so bad, hopefully you have now found peace
---
Ozgecan Aslan
died on February 11th, 2015
Ozgecan was a 19yo Psychology student from Mersin, Turkey. She had loving parents (her mom returned to workforce to fund her education) and an older sister with whom Ozgecan shared love of opera. On February 11th, 2015, Ozgecan was riding a minibus home, after going to a mall with her friend. The driver assaulted her, attempted to rape, but she resisted: scratched his face with her fingernails, and used pepper spray. In response to this, the driver stabbed her multiple times, beat her to death with an iron rod, and then asked his father and his friend for help disposing of the body (which they provided).
The case resulted in nationwide outrage and protests across the country, and was described as the first mass movement for Turkish women.
---
Aurore Gagnon
died on February 12th, 1920
Aurore was a 10yo girl from Quebec, Canada, who was killed by her stepmom. Her birth mom died of tuberculosis, and her dad remarried. Shortly after, Aurore's younger brother was found dead and the neighbors were suspicious. In September of 1919, 10yo Aurore was hospitalized for more than a month because of a leg infection caused by physical abuse: her stepmom used to beat her with an axe handle. When Aurore was discharged, the beatings continued, and on February 12th the girl passed away from septicemia (infection from wounds entered her bloodstream and she died as a result). The story of l'enfant martyre (The Child Martyr) received great attention in the media and Aurore became an icon of Quebec sociological and popular culture.
---
James Bulger
died on February 12th, 1993
James Patrick Bulger was a 2yo boy from UK who was abducted at a local shopping centre, tortured, and murdered by two ten-year-old boys, the youngest convicted murderers in modern English history. The boys were released from custody when they turned 18, but one of them, Jon Venables, had committed various offences since, including child porn distribution. The case has prompted widespread debate on the issue of how to handle young offenders when they are sentenced or released from custody.
---
Tobi Joan Doyle
died on February 13th, 2016
2yo Tobi from Colorado, USA, loved dancing, music, Minnie Mouse and Teenage Mutant Ninja Turtles. Her mom and mom's boyfriend used to hit her, and send her on timeouts so long that she "could barely stand" by the time they were done. Her great aunt felt this was "overboard", and her babysitter even reported excessive discipline. Toby has been to the hospital for her injuries, but was sent back home because the doctors assumed she just fell down the stairs. Three weeks later, Toby died of blunt trauma to the head. Her mom was charged with child abuse resulting in death.
---
Reeva Steenkamp
died on February 14th, 2013
29yo Ms Steenkamp from South Africa was a successful model, appearing in magazines, commercials, and TV shows. She also worked as a paralegal, applied to the bar in 2011, and was hoping to be a qualified legal advocate by the age of 30. Ms Steenkamp was a keen horse rider until she broke her back in a fall in her early 20s and had to learn to walk again. Since November 2012 she was dating a South African Olympic and Paralympic runner, who shot her on Valentine's day 2013 while she was using the bathroom in his home. He said he mistook her for an intruder and was initially found guilty of culpable homicide, but then was convicted of murder.
---
Torey Dymond
died on February 15th, 2012
1yo Torey Dymond from Florida, USA, died after taking a walk with his mom's boyfriend. The man said Torey was "whiny" and wasn't taking to him as he would have liked; he said the child fell and hit his head twice. When they got home, Torey's mom noticed that his face was purple and blue and he seemed "lifeless". She called 911, but Torey died in hospital.
---
Blake Litton
died on February 16th, 2012
3yo Blake from Missouri, USA, lived with his mom, little sister, and mom's boyfriend. One evening their mom was at work at a nursing home, and the stepdad took Faith and Blake to Walmart. Blake soiled his pants, and the man "lost it," as he later texted Blake's mom. He beat Blake so badly that the boy's body was covered in cuts and bruises, he had a lacerated liver, and a ruptured blood vessel in his brain. Once the man calmed down and realized Blake was seriously hurt, he took both kids to their mom's work, saying that he loves her but he can't call ambulance for Blake because he'll end up in prison for life. Blake's mom told him to take Blake to emergency room anyway and went back to work. The man drove off with both kids, stopped on a highway and called 911, saying that Blake was just hit by a car. By that time (5AM) the mom finished her shift and arrived at the scene as she was walking home. When hospital staff saw Blake's injuries, they called the police. His sister also had cuts, bruises, and a broken wrist.
Blake died the next day, the man was imprisoned for life, mom is still pending trial on murder charges (because Blake might have survived had she called 911 immediately). Blake's little sister lives with her grandparents, and was the one who told the story of what happened, because she saw it all: how Blake soiled his pants at Walmart, how the man was punching Blake in the bathroom, how he drove her and her unconscious brother to mom's work in the middle of the night, how mom left them with him and went back to work, and how the man staged the hit-and-run that never happened.
---
Dwelle Jerome Clark
died on February 18th, 2014
55yo Dwelle Clark from New Jersey, USA, was stabbed to death by his ex-girlfriend. He caught her rummaging through his mother's handbag, asked her to stop it, she started hitting him with a walking cane, he left the room, and she followed him with a butcher knife and stabbed him in the chest. Mr Clark died three days later. Their daughter said, "My mom is a drug addict, but she hasn't been using lately because she's trying to get herself together. In a situation like that, it doesn't take much for (an addict) to snap. This is not the first time my mom has snapped like this." "I really don't know what to think," she added. "It's just a sad situation. She's locked up and he's no longer here." The woman has stabbed her previous boyfriend to death in 1980, and served prison time for it. "I'm guilty," she said. "So what else can I do?"
---
Jeff Akers
died on February 19th, 2008
50yo Jeff Akers from UK was stabbed to death in a public bathroom because he was gay. Mr Akers worked as an accountant and volunteered for HIV/AIDS charities, counseling other gay people who had contacted the disease. "Guys like Jeff seem few and far between... he was gentle but firm when needed, kind and giving, non-judgmental and while he had a serious side he could make you laugh and brighten the moment with his wicked sense of humor. Jeff had a wealth of experience he never hesitated to share and encourage others with if called on for help. He took so little when giving so much to those around him." David Jack, friend.
---
Steve Rhinehart
died on February 20th, 2012
62yo Mr Rhinehart, a retired contractor and farmer from Georgia, USA, had a wife, two grown kids, and a cattle dog Sadie. His 36yo son struggled with depression, anxiety, and substance abuse, and moved back with his parents. As time went on, Mr Rhinehart insisted that he move out, because he would neither get a job nor receive treatment. The son felt his mom alone would take care of him, wanted them to divorce, and when that didn't happen, he killed his father. "I just pulled the gun out, continued to walk up the hill and around the corner and met him and just shot him, right in the chest," he said.
---
Savannah Hardin
died on February 21st, 2012
Savannah was a 9yo girl from Alabama, USA, ran to death by her grandmother over some fundraiser candy. Savannah took it from another girl on a schoolbus, ate it, left the wrapper at her seat, but told the bus driver she didn't do it. The bus driver told her grandmother. "I should have paid for those candy bars," the driver said in retrospect. Grandmother called the mother of the girl Savannah took the candy from, offering to pay for it and saying that Savannah is in a big trouble. The woman spoke to her daughter to get the story straight and called right back because she was concerned with grandmother's tone of voice; "I didn't want Savannah to get in trouble for something that didn't happen," she said.
The next day Savannah didn't take the bus to school, and the bus driver came by their house in the afternoon to check on the girl. Grandmother said Savannah was "gonna learn" not to lie and that she would "run until I tell her to stop.". Neighbors across the street saw Savannah running for more than three hours, while carrying firewood sticks, with her grandmother shouting: "I didn't tell you to stop!" They called 911 later on that evening, when Savannah was on the ground, vomiting, as her grandmother slapped her and shouted: "Get up! I better not have to tell you again!" Savannah had a seizure, was hospitalized, and died three days later from extreme physical exertion. Her grandmother was convicted of capital murder. "I wish I had done something a lot sooner," said the neighbor.
---
Kevin
died on February 25th, 2009
Your suicide left us with so much hurt and pain. I hope you can forgive me for starting it all. RIP my brother. I love you now and for always.
---
Victoria Climbie
died on February 25th, 2000
In November of 1998 6yo Victoria from Ivory Coast came to France to stay with her aunt (whom she never met before), so that the aunt would get social security benefits, and Victoria would get an education. Things didn't work out with social security in France, and next April they moved to UK. Victoria was abused and neglected, and numerous people saw that, but she never got the help she needed. For example, workers at social security offices (which the aunt frequently visited to apply for benefits) said that Victoria "looked like a child from an ActionAid advertisement", but they assumed it was an attempt to "persuade the authorities to hand out money." Doctors at the hospitals Victoria was taken to for her injuries reported the problem to CPS, but the aunt said Victoria had scabies, and CPS cancelled the follow. In August a social worker spoke with Victoria on four separate occasions for a total of less than 30 minutes (so about seven and a half minutes each time). This social worker visited their flat three more times between December and January, but received no answer and assumed they must have moved back to France. In February CPS wrote to the aunt saying that if she doesn't respond, they'll close the case. A week later they closed the case; it was February 25th, the same day that Victoria died.
8yo Victoria was forced to sleep in a bathtub in her own excrements, had been burnt with cigarettes, tied up for periods of longer than 24 hours, and hit with bike chains, hammers and wires. She died of hypothermia, multiple organ failure, and malnutrition, and had 128 separate injuries and scars on her body at the time of death. During her life in Britain, Victoria was known to four social services departments, three housing departments, two child protection police teams, two hospitals, an NSPCC centre, and a few local churches. Her death led to a public inquiry and produced major changes in child protection policies in the United Kingdom.
---
Ash Haffner
died on February 26th, 2015
16yo Ash from North Carolina, USA, struggled figuring out their sexual orientation and gender identity, and committed suicide because of school bullying. "if i die, i don't want to be remembered as the sad person i was ok. i don't want to be remembered as the faggot gay girl with all the scars on her arm. unfortunately thats who i am to alot of people. if those people would have just stayed silent and kept their ignorant thoughts in their heads then maybe i wouldn't have those scars on my arm. maybe. it wasn't always about what they had in their heads, it was what was inside of mine too. i just didn't understand why i felt the way i did when i had a decent life."
---
Jessica Lunsford
died on February 27th, 2005
Jessica was a 9yo girl from Florida, USA, who was kidnapped, raped, and murdered by a neighbor. At 3AM he entered her home (the door wasn't locked), went into her bedroom, woke her up, told her "Don't yell or nothing,", and took her to his trailer about 100 yards away. There he raped her multiple times, and then locked her in the closet when he left for work in the morning. Three days later he told her to climb into two garbage bags because he was going to "take her home". Instead, he buried her alive. He confessed, then recanted, but was found guilty of all charges related to Jessica's death, and died on death row, maintaining his innocence.
Jessica's dad pushed for a new legislation, Jessica's Law, which now requires sex offenders in Florida, who violated children under 12yo, to serve a minimum of 25 years in prison, and to wear tracking devices for life.
---
These are our tributes to those who have died as a result of child abuse, domestic violence, rape, religious abuse, or other types of abuse. Some of these people we knew personally, others we only heard of. Abuse is not a theoretical concept, it happens to real people, and costs lives. It's important to honor those we lost to abuse by telling their stories, so that the secret that killed them does not remain secret, and so that other lives might be saved, as a result of increased awareness.
---
Embed a memorial on your site or blog:
Copy-paste the code below to your site to display a name and a photo of someone who died through abuse on today's date; you can click on the photo to read their story. The widget is transparent, uses no javascript, and can be resized to fit your layout; proportions are 3:5.
<iframe style="width:210px;height:350px;border:none;" src="http://www.fortrefuge.com/widgets/memorials.php"></iframe>
---
It is good to rub and polish our brain against that of others.
~ Michel de Montaigne